REMOTE CUEING SOLUTION FOR VIDEO CONFERENCING AND LIVE STREAMING EVENTS!
REMOTELY CUE A TECHNICIAN TO RUN YOUR VIRTUAL PRESENTATION.
During a live event, the presenter is on the stage and the audio/visual technicians run the show behind the scenes. In a virtual environment, a broadcast quality presentation with PowerPoint and video rolls still requires a technician to run the show while the presenter is talking.


With SlideCue a presenter is given a secure browser based cueing system that is connected to the technician's computer. This can be easily pulled up on a smart phone and doesn't require any installation like an app. This allows the presenter to tap the advance arrow on their phone screen to advance the slide and the technician is cued with a light and a sound to advance the slide. The presenter can also tap their back arrow to let the technician know to go back one slide. SlideCue is also equipped with a timer and a message feature so the technician can let them know how much time is left in the presentation and also send them a quick message without interrupting the presentation.

All of this allows the speaker to focus on their presentation without having to worry about their slide show and video rolls.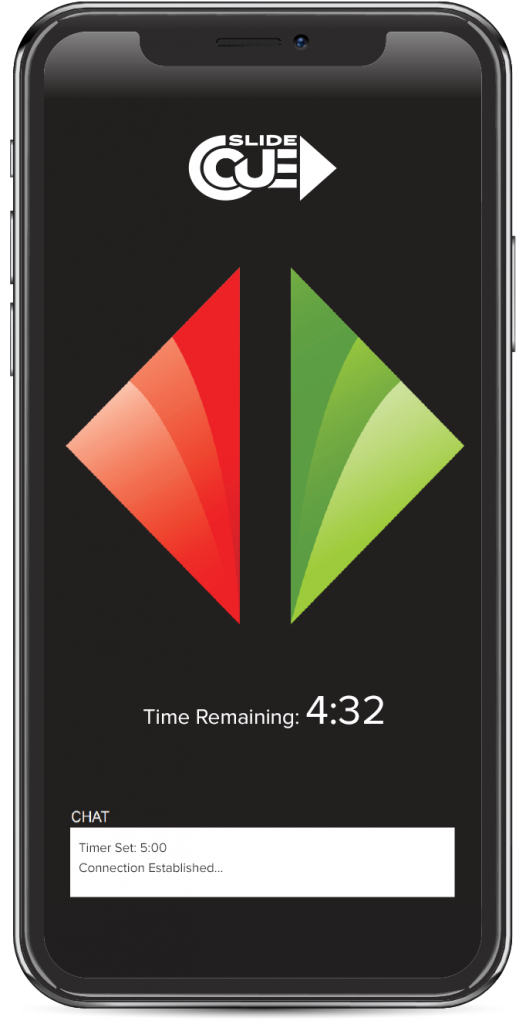 SlideCue is equipped with a countdown timer that is activated by the technician. This allows the speaker to keep track of the time left in their presentation.
Text Chat with Technician & Presenter
Sometimes a technician needs to get a brief message out to the speaker during their presentation. SlideCue allows for a text based chat function.
Technician Admin Controls
The technician has the ability to control other settings about SlideCue. Future versions will allow them to toggle on and off a sound cue and also to turn off the speaker's back arrow.
$5/week (per code)
20% Discount for a one month rental – $17.50/month (per code)
Blocks of 10 codes – 10% Off
Blocks of 50 codes – 15% Off
Blocks of 100 codes – 20% Off
blocks of 10/50/100 codes